Handling System Failure error in GST Common Portal
As the GST Act, rush on the country like a racket, the GSTN was not gifted a fully troubleshooted GST IT System. When the Taxpayers are started using the GST Common Portal error were started to roll out even after 6 months.

As an Accounts Professional, i had faced many technical issue while i work in the GST Common Portal of the many Taxpayers few of them are cited below
Taxpayers, Accountants, Tax Practitioners, Chartered Accounts, and other Tax Professionals are facing the issues beyond their knowledge. Even thought we have the GST Helplink and Help Desks they are also not able handle the issues quickly, within the deadlines of the returns. So, it is a tough time for everyone to file the returns in time.
And in this article i am going to tell you a common problem faced by most of the Taxpayers and Tax Professionals while submitting GSTR 3B, GSTR1, GSTR4 Returns. And i faced this error while i was trying to reset the GSTR 3B to change the figures in the 4th column.
A common solution for any issued is that you need to contact the GST Team either over phone or by mail. So, for this i have mail to the GST Team as shown in the following snapshot and i got the Ticket Number as well.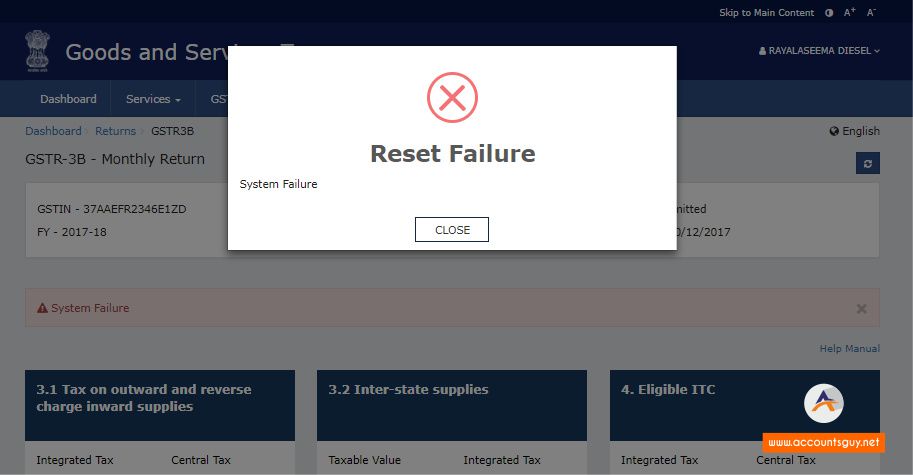 After 2 days, the problem for System Failure error is solved but another issue raised when i try to save the GSTR3B after making changes for that. I found an error message with error no. RT-3BAC-9018 and the same forwarded to the Help Desk and now it has been solved. If you are facing still any issues you may comment below.
GST TAX CONSULTANT SERVICE

---
TRY OUR HASSLE FREE GST FILING SERVICE
---
All your GST Tax Complains are handled by our Tax Experts